De wereld van: Andrew Cotton
De wereld van: Andrew Cotton
Een exclusief interview met dé Britse big wave surfer!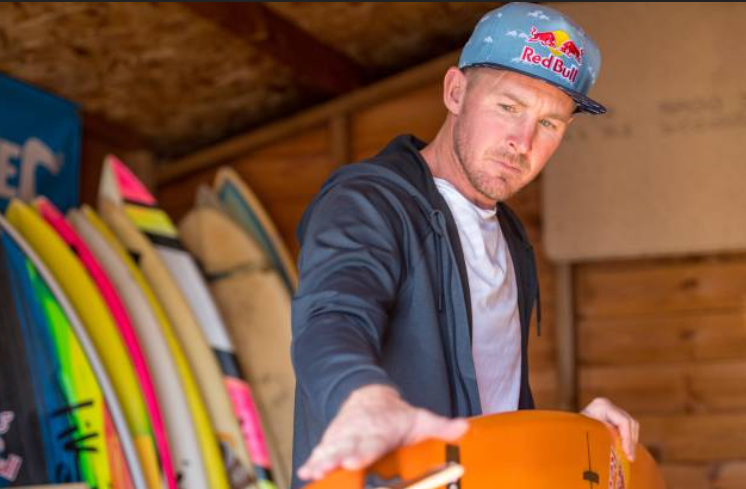 Heb je altijd al willen weten hoe het leven van een echte big wave surfer eruitziet? Ripstar interviewde Andrew Cotton! Hij vertelt je graag hoe zijn dagen lopen, hoe hij bij het big wave surfen is terechtgekomen en hoe hij zijn grootste angsten overwint.
Naam: Andrew Cotton
Age: 43
Nickname: Cotty
Favorite destination: West Ireland
Which board(s) do you ride?: Any board I like, no particular brand
Goofy/regular: Regular
Instagram: @andrew_cotty
Hi Andrew, how are you? Awesome catching up for an interview! We initially met through our nomadic lifestyles and passion for sport, the first time was during a dawn yoga session at the famous lighthouse at Nazaré; an amazing experience! Can you describe the magic of Nazaré to our readers who haven't been there?"
"Nazaré is a special place, there is a good energy in the air. It's probably the only place you can get that close to the biggest waves in the world. Many big wave spots are far out in the ocean, so you can't see the waves up close. But Nazaré is almost like this perfect amphitheater for big waves, you can see them breaking next to you when you stand on the cliff. Especially in the classic photo shots, when it almost looks like the surfers are surfing right into the famous lighthouse. The spot really comes alive when the waves are big. Whether you surf or not, it's a place I would recommend everyone checks out, just to feel the raw energy of nature."
You were born in Plymouth and raised on a diet of sea and surf on the North Devon Coast. A keen surfer from the age of eight. How would you describe your seaside childhood? How did you start surfing?
"I grew up in North Devon. I got introduced to swimming and surf lifesaving. At that time surfing was just something on the sidelines. I was never good at team sports, so I loved the no rule part of swimming and surfing. That is how I got drawn into it and how it turned into a big passion."
How did your passion for big wave surfing start?
"There has never been a defining moment when I started pursuing big waves. Actually, when I first started surfing bigger waves, big wave surfing wasn't really a thing. It was just something some surfers did. For me the goal was always to be a good competition surfer and have a professional career through surfing. It somehow naturally led towards big waves. A turning point for me was my first trip to Hawaii. I was about 18 years old and surfed Waimea, I absolutely loved it, being in all that raw energy, pushing my personal limits!"
You helped to pioneer big wave spots in Ireland, that are now famous, and spent a lot of time on the West Coast teaching yourself to ride a jet ski in huge waves. What was it like to be one of the first riding these spots?
"You know, what is a big wave? For me, my 'big wave situations' were at my home beach. The waves were probably not that big but for me it was huge, I was pushing my personal boundaries. Probably it was a standard shortboard wave, around 6 feet, but at the time it was way out of my comfort zone. There is no size limit to big waves, it's your personal experience. If it's pushing you and it is making you happy, that's what it's about. So yeah, I can remember a few sessions back home in Croyde, where I thought I was pushing my limits. Looking back, the waves were probably not that big but in my mind I was charging massive waves!"
Andrew in actie!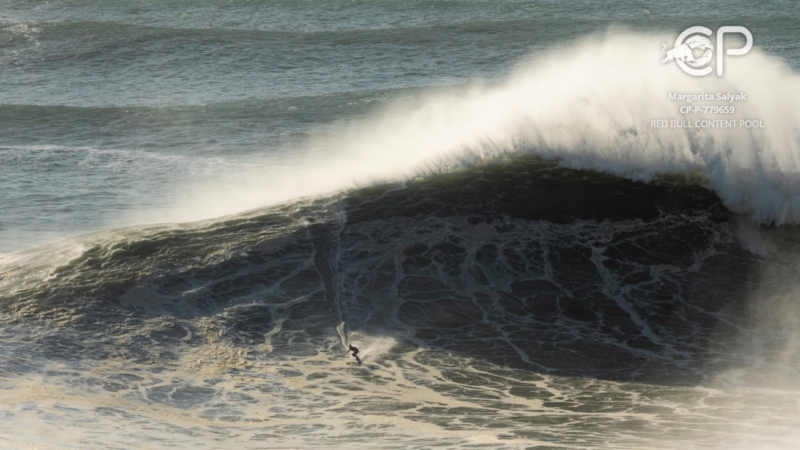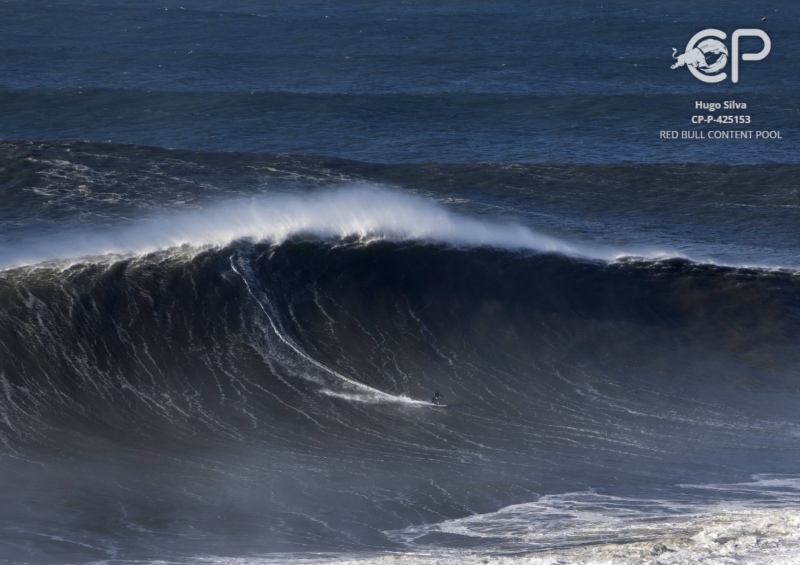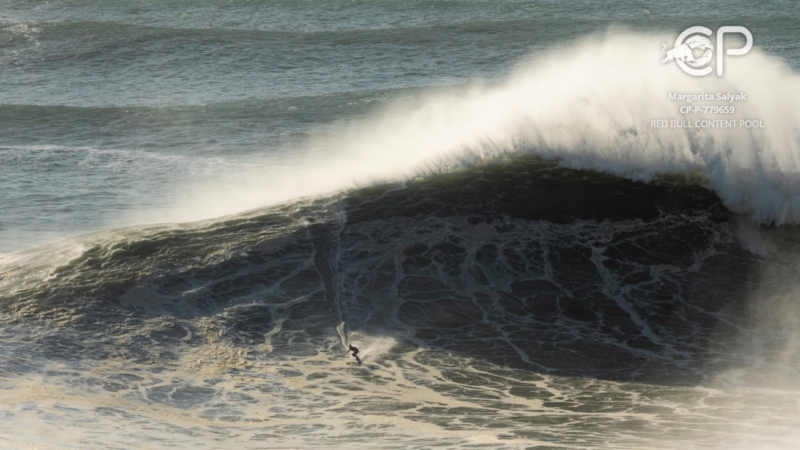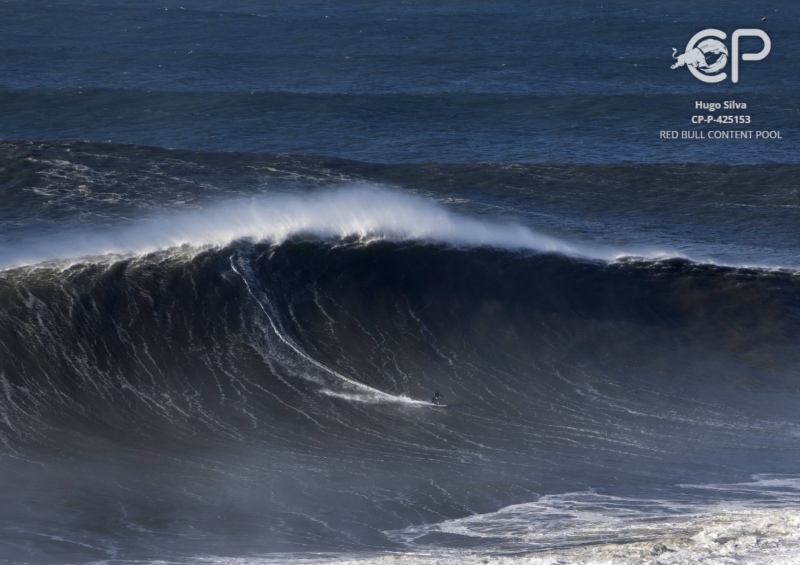 What was it like in the early days?
"I feel really fortunate I had the opportunity to experience so many surf spots in the beginning. There was such a cool group of surfers who where pushing each other. Trying to figure it out for ourselves. There was no guidelines of how to set up your jetski, or which boards you should be riding. It was all sort of trial and error. Back then it probably took much longer than it takes now. These days having all the information at hand makes it easier. I think some of the experiences and the massive fails we went through taught us a lot about how much you want it and how much your are prepared to sacrifice. It was just great, looking back I'm really stoked."
At the age of 25 and under pressure to find a job, you became a plumber. For years you did combine work life and surfing. In 2013 you made the decision to transform your life from plumber to a professional surfer. Can you tell us how you did get to this point?
"So many surfers, or anyone chasing a dream, I believe, are not always financially viable. I studied plumbing and became a full-time plumber. At that time, I was chasing the surf and big waves, and had that full time job. I was so obsessed with surfing bigger waves and become a better surfer. I knew the full-time job was holding me back, but I needed an income. The only option was to prove myself, get some recognition, network and knock on everyone's door and try to get a little bit of financial support. You want brands and people to believe in your goals and dreams. In 2013, I was fortunate to sign a contract with Red bull. They enabled me to make that dream a reality. When I signed that contract, I had a stable income from surfing and could pursue my goals. That was definitely a turning point and at the same time just the beginning. I was given an opportunity and I had to prove myself for that to continue. Which I'm still doing today. You're trying to prove to yourself and your sponsor that you are worth investing. I feel really fortunate to have these opportunities, but every year you must prove yourself."
In your latest short movie Comfortable with the uncomfortable you talk about breaking through the boundaries of fear. Tell us a bit about that!
"I think it is not breaking through the boundaries of fear, but about pushing how comfortable you are with those fears. There is nothing worse than having fear blocks or anxiety stop you from doing something. You always feel better after you push yourself through those barriers, the feeling of achievement is huge. It's not about pushing yourself too hard or getting yourself injured. It has a lot to do with mindset, breathing and focus, and less about kamikaze or macho behaviour, I don't think those approaches really work. Fear is healthy, you must respect it and try to change it. It's a fine line but it's there to be pushed."
What is it that attracts you to fear and overcoming fear?
"For me it's the feeling I have when I get scared and I go through those moments. I think fear can stop you doing a lot of things. When you talk about fear it doesn't have to be an extreme sport, it can be anything. Those blocks can be in your work, your day-to-day life or anywhere else. It sort of keeps you in your little box or on your little pathway. But when you break out of those boxes or pathways I think that's where life gets exciting and interesting. Pushing fears and learning how to coexist with them is very healthy and something really positive, which brings nothing but good feelings and joy."
What is your greatest fear in and out of the water?
"I think my greatest fear in the water is getting injured. The thought of getting injured makes we want to train harder, work on good movement and be strong. That fear makes me put in the hard work.
Fear out of the water? There are so many! Public speaking, fans, talking to people. Less massive, but I think I have a lot more fear on dry land!"
In 2017, you experienced the biggest wipe out of your life and broke your back. The wave broke on you and projected you into the flat, breaking your back from the impact. On your YouTube channel you explain in detail how it all happened. Most of us would never go back into the water, but you experienced it differently. Can you tell us how you mentally where able to not experience the accident as traumatic?
"Yes, that's interesting. In every injury is a trauma, but I never thought I was going to die or would never walk again. Of course, you have to work through questions like; why am I doing this, what is it all about and what is it for? I think surfing and big waves brought me more happiness and joy than misery. That stands out for me, and I just can't just stop that."
Was that wipeout the scariest moment in your surf career?
"No, it was not, but yes it was painful. Two days after the accident, when I was trying to walk again, I had really bad nausea problems and couldn't walk properly. Garret McNamara was with me at that moment. Seeing the look of his concern in his eyes was probably the scariest, because I never have seen him concerned or worried about anything. So, I was really like; I have done something pretty bad here. Yeah, that was probably the most worrying moment, two days after the accident. But you know, it's just an accident, it happens."
Almost a year of rehabilitation followed. How did you managed to get physically and mentally back as strong and powerful as before the horrific wipeout?
"I was really fortunate with my personal trainer Andrew Blakey, but also Redbull stood by me and put me in contact with the best physiotherapists and surgeons. It was actually an enjoyable process, because I saw it as a start and a finish. Of course, there was frustration and there were low moments, but it's a process in which you can see the improvements and that's exciting. There was no question of whether I would come back, it was about; this is how I'm going to heal. Surround yourself with the right people, that's how you get back!"
How do you choose your gear when surfing big bombs? Which surfboard and which fin set-up do you choose for which situation?
"Everyone is slightly different and choosing the right equipment for the right day is always very personal. Constantly listening to feedback from other surfers to see what they like, and trying that. Ideally it's nice to try lots of different boards and surf as much as possible, figure out what works for you. On the biggest days I have a specific board and fin set-up I like. But I'm always challenging that and trying out new things because it's all about progression. The last two years I surfed a lot of different boards, trying slightly different weights and fins. It also depends on the size of waves and whether you're paddling or towing-in."
Can you describe what goes through your head when you ride a big wave?
"Nothing really goes through your mind. You're not thinking, you're just doing and that's the nicest thing about it. You're in the moment."
The hold downs after a big wave wipeout are intense. Can you describe how the world feels deep  underwater? How do you keep calm?
"The wipeouts can be intense and scary. The key to survive those moments is to learn to enjoy the wipeouts and don't think about anything. The mind is horrible, it can bring tricks in your head, it raises your heart rate and can put you in positions where you change the state of your body, and that's what you don't want. Being able to think about nothing when you go through that wipeout circle is a real skill. Lots of people have different methods; they sing songs, think about their favorite place or can shut off and think about nothing. Which is more the approach I do."
How long should you be able to hold your breath in a heavy wipeout?
"There is no right or wrong answer to this. Typically, a wipeout is 10 to 20 seconds, not very long. But it's how comfortable you are holding your breath for 20 seconds with a high heart rate. You go into that unknown, there is no time. It could be 1 minute, very rare and unlikely, but it has happened. It's up to each individual to either train, to get comfortable and prepare for that. Or train your breath and know you can hold your breath so long you are ready for it."
How do you train out of the water to prepare for the big days?
"Coming into my upcoming winter season, I have been doing a lot of strength and condition training with my personal trainer Andrew Blakey. To work on my core, I started a Pilates routine."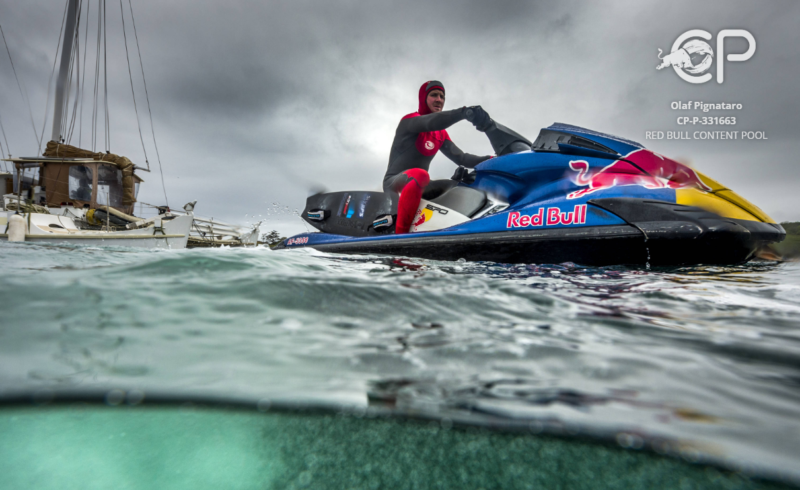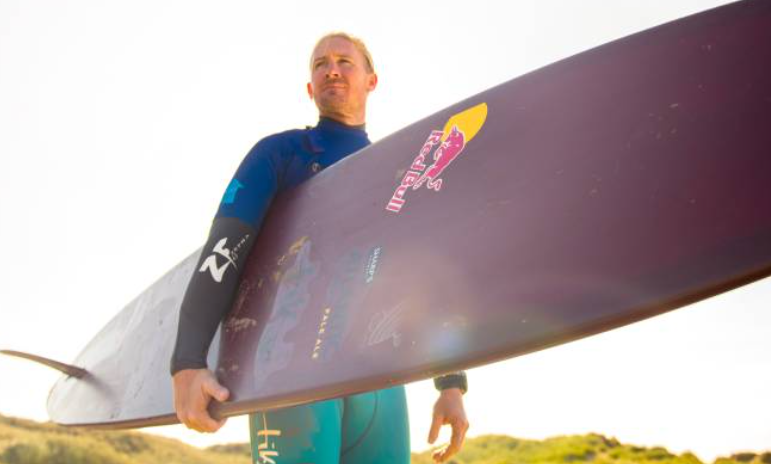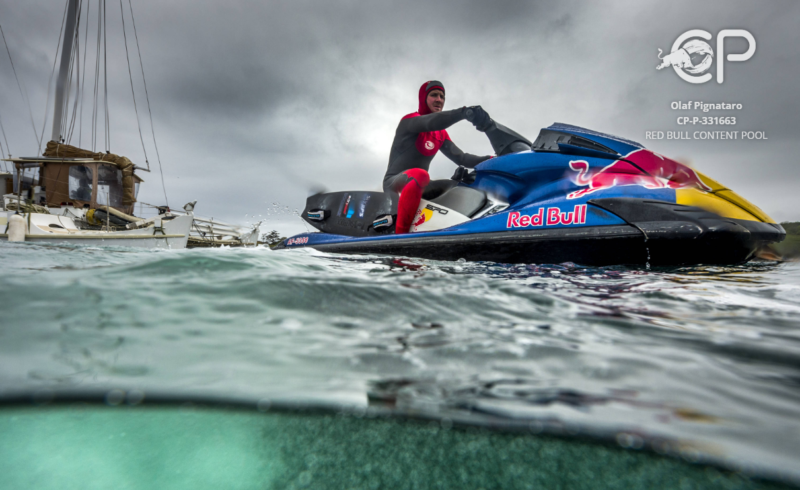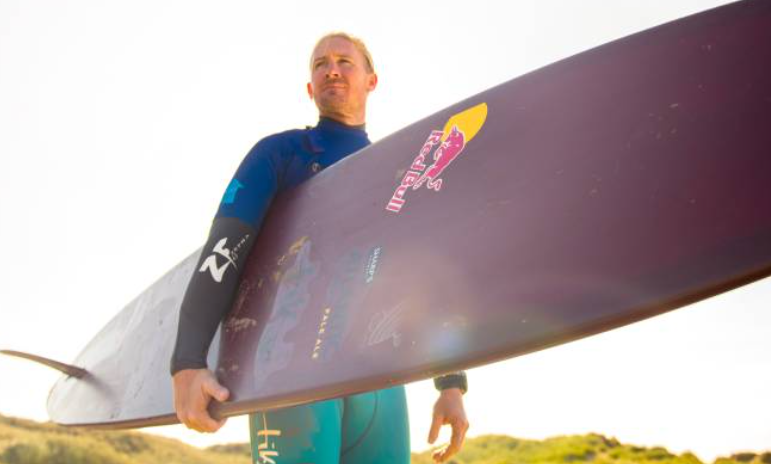 Do your two children influence how you deal with risks?
"Yes and no. The responsibility of having children made me want to surf on a more professional level. I didn't want it to be just a hobby. I either had to be a full time plumber or a full time surfer. Having the children and having that responsibility made me make that decision. I train more professionally and harder to be safer in the water. But at the end of the day, you still want to get the biggest waves or the best rides to maintain your career. So I suppose it's about getting your feet under the table and being successful."
Do your children have the same passion for surfing?
"Both surf a bit and are confident in the water. Some days they want to surf, other days they don't. It's not something I force them to do. As long as they have access to boards and wetsuits, I'm stoked."
Only big bombs or can you also have fun on small peelers?
"I like surfing, so it's not always about big waves. It's about the ocean and enjoying waves. Sometimes we get too focused on high quality waves rather than just surfing for fun."
You started with foiling. Why? And do you foil Nazaré on big days too?
"About 5 years ago I started foiling. I thought it would be a way how we could surf the biggest waves ever. The reality is that it is much harder than it looks and how Laird Hamilton and Kai Lenny make it look. You go very fast in big waves. More recently I have been enjoying it in smaller waves, it's a learning curve. I have towed-in friends in some big waves, it's epic to see someone riding a wave on a foil. Foiling does have a place in big wave surfing but it's not quite for me yet."
Are the risks bigger or different with a foil?
"The impact is different. You go way faster, you're falling from a height if you fall and wipeout
rescues with a huge foil are different. Whether the risks are worth it, I don't know. Maybe not at a place like Nazaré. Maybe the technology and different waves are making it slightly more worth it."
What are your future goals?
"To stay fit and healthy. Be at every mayor big swell this season and work towards picking off the biggest waves of the day. Having fun with big waves!"
Who is your all-time hero?
"There are many surf heroes who have influenced me over the years, But Garret McNamara is definitely an inspiration and role model. He helped me to achieve so much. But also Kelly Slater, who's still competing and winning. Peter Mel inspires me too, the way he surfed last year was epic."
Favorite surf documentary or movie?
"The last documentary I watched was Kissed by God about Andy Irons."
I know you have a great feeling for humor. What is your closest situation to a "kook of the day" experience?
"I feel like I continuously doing kook of the day moves. The last time was when I nearly sink my jetski on a very small day. I left the flush hose in the engine, ending up filling my jetski with salt water. I had to make a quick call to someone to come out and rescue me."
Finally, what advice would you give to someone who wants to start big wave surfing?
"Treat it as a marathon, there is no sprint. There is always a bigger and better swell. Make the most of every wave, but there will always be another one."
Interview tekst: Nicole Scheerens